This nightmarish creature is one that is speculated to have devoured Element 6.
Size: Large enough to swallow three battleships whole.
Skin: Clammy, green and black, with spots of white
Hair: None
Eyes: Large, puffy and white
Legs: None, has a tail
Arms: None, has four fins instead
Associated Color: A Stormy Sky
Associated Mood: Fear and Hunger
Combat Ability: No real 'fighting style', but its immense size is threat enough.
Magic Ability: None, but may have some sway over water.
Alignment: Chaos
Primary Faction: Element 6
Background
Edit
What looks like to be a giant, mutated whale is the Fathom, the carrier for the damned Element 6. Large enough to carry the entire unit in its stomach, it often worked as transport. However, what makes the Fathom dangerous is that when it appears, the waves it makes are akin to mini tsunamis, and the amount of sealife it eats is enough to endanger entire species. The worst part is that the Fathom has been trained to attack any that wander into its seas, as it sees itself as a tool of war against all of Solinia. Thankfully, it only appears when the All Consumer is asleep.
As a weapon, it can eat entire units by opening its mouth and letting the pull of the water drag its victims in. It can also swim at high speed and ram at high velocities, with enough force to leave cracks on an island shore.
Inspirational Reference
Edit
http://t3.gstatic.com/images?q=tbn:T_u3FHVxIvGubM:http://www.tyranx.com/concepts/leviathan.jpg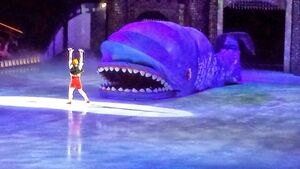 http://www.skotolsen.com/paintings/images/monstro.jpg
http://www.youtube.com/watch?v=h-vUrg3Gs9A (particularly the chase scene...and no, I couldn't find an english version).
Section heading
Edit
Write the second section of your article here.